THE 717 TOURNEYS STORY
Our company was founded by coaches that grew tired of the current travel baseball tournament landscape.  Our coaches have been to tournaments all over and the overwhelming theme is that very little effort is being put into the experience of the players.  
We believe every tournament you attend is an investment in your organization, it's players, parents, and coaches.  
We believe every tournament you attend should make every effort to provide a clean, competitive, fun, and MEMORABLE experience.  
The 717 experience aims to be a memorable one and to showcase the players as much as possible.  
Each tournament will have:
  All Tournament Teams (At least one player from each team)
  Championship Game MVP (Award given to each MVP)
  Easily accessible Tournament/Field Directors
  Tournament Results, Teams, and MVP posted on all social media platforms.
  All championship teams will receive the 717 Tourneys Championship Banner.
  Much more to come!!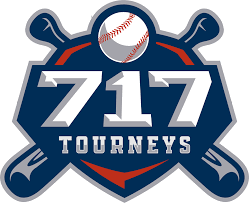 CHECKOUT OUR SOCIAL MEDIA